Don Slack Receives Honorary Degree from Chapingo Autonomous University
July 31, 2019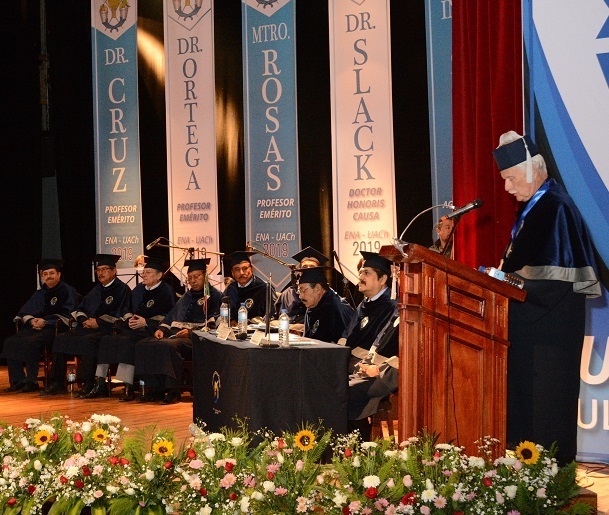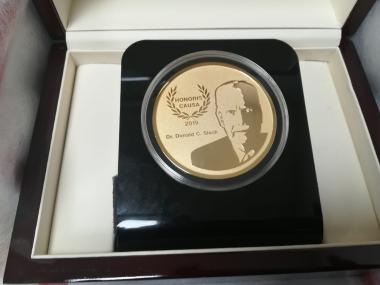 Amongst the photos of center-pivot irrigation systems, snapshots from his travels around the world, and various awards, sits a grinning Donald Slack. His office is an ever-growing testament to an inspired life in academia and in his hands he holds the latest piece to join the collection—a nearly three-inch-wide gold medallion with none other than his face etched upon its surface.
The medal was given to him this July in an elaborate ceremony held at Mexico's Chapingo Autonomous University in Texcoco, where he was recognized for his significant contributions to Chapingo students with an Honorary Doctorate Degree. The honorary degree was conferred by the Irrigation Engineering Department and the High University Council.
"I am very humbled and deeply grateful for this recognition. It's the biggest award I have ever received. It even surpasses the one from Khon Kaen in a sense, even though it wasn't a princess who gave it to me," jokes Slack.
It is important to note here that this is not Donald Slack's first honorary degree. That honor came in 2010 from Thailand's Khon Kaen University, where he was, in fact, presented the award by a princess.
An Illustrious Career
Slack began his career as a civil engineer for the city of Los Angeles in 1965, followed by appointments at the University of Kentucky and the University of Minnesota, as well as a brief stint at Khon Kaen University, where he was an adjunct lecturer of what he would later find out was the first graduating class. With a desire to return to the West, he landed at the University of Arizona in 1984.
Those who know him, know he wears many hats—professor of agricultural and biosystems engineering, professor of watershed management and eco-hydrology, the Cecil Miller Families Endowed Chair for Excellence, the Dean's Chair for Excellence in Agriculture and Life Sciences, and Faculty Fellow in the Office of Global Initiatives, just to name a few.
A registered professional engineer, Slack is known globally for his work in on-farm water management practices, irrigation systems and technologies, watershed hydrology, erosion control, and the production of biofuels from sorghum. Having served as a consultant to the World Bank and United States Agency for International Development, his work has brought him to more than 30 countries, from Southeast Asia to South America.
A Personal Connection
His relationship with Mexico's Chapingo University began in 1987, when a graduate student from Chapingo's Irrigation Engineering Department enrolled in a Ph.D. program in what was then the Soil and Water Science Department at the University of Arizona. His name was Waldo Ojeda Bustamente. Slack would join his Ph.D. committee, from which sprang a lifelong professional friendship.
It was Bustamente who, in 1992, invited Slack to participate in an international course in irrigation systems (Curso Internacional de Sistemas de Riego) at Chapingo. He would become a regular instructor in design and management of center-pivot irrigation systems in the course for more than ten years.  
Through that course, Slack met Jose Reyes Sanchez, who, through Slack's encouragement, became the first of the "Chapingueros" to complete a graduate degree in Agricultural and Biosystems Engineering at the University of Arizona. Reyes Sanchez would later become President of Chapingo Autonomous University.
A Lasting Impact
For nearly 30 years, Slack has continued to work closely with Chapingo. He helped create graduate programs in agricultural engineering at the University, hosted undergraduate interns from Chapingo at the UA, and participated in a six-month visiting professorship.
In that time, he has supported more than 30 graduate students who have come to Arizona for advanced degrees in various departments, including Biosystems Engineering; Environmental Science; the School of Natural Resources and the Environment; and Hydrology and Water Resources.
Building on his partnership with Chapingo, Slack recently spearheaded an initiative establishing two doctoral-level dual degree programs, one through the School of Natural Resources and the Environment and the other through the department of Biosystems Engineering.
"With all sincerity, the graduate students from Chapingo who have enrolled in our programs in ABE are the very best students that we get from Mexico," said Slack in his acceptance speech, beneath a nearly twenty-foot banner bearing his name. He jokingly plans to hang the banner from the sixth floor of the Shantz building this fall.
Fittingly, the first ABE graduate student from Chapingo, Reyes Sanchez, had the honor of presenting the award. "He is a man committed to the human causes of respect and equality without distinction of creed, race, nationality or gender," said Reyes Sanchez at the ceremony. "Dr. Donald C. Slack has shown that he is a citizen of the World."